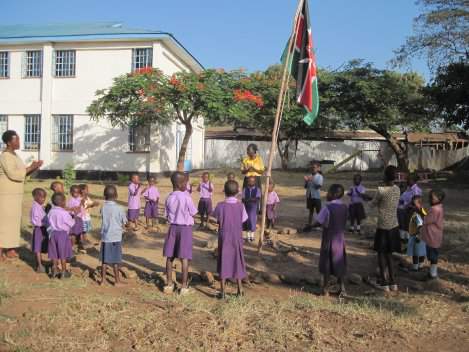 2013
In April we delivered 200 pounds of gently used books to Kitale, in western Kenya, to boost a small Sunday Library program serving the children from a local shantytown. The head librarian said in an email, "I was delighted to have exactly 100 kids come to the library on Sunday! There were 98 the 2 preceding weeks."
The final report from the 2012 Anti-Female Genital Mutilation program arrived from western Tanzania, telling us that our grant provided food for 350 girls in the 6 week in-residence program, as well as personal hygiene products and transportation. Of the 350 girls who attended the program, which is held during the "cutting time" from mid-November to early January, only one was forced to undergo cutting after returning from the program.
During the April visit to Kenya, we came across two severely malnourished boys, twins age seven. Their mother had died of HIV years earlier and it seems that their father and stepmother thought (incorrectly) that they'd be wasting the food on boys likely to be HIV positive. This situation was a learning experience for all involved. In the end, the best we could achieve is food supplementation with Plumpy'nut and occasional social work oversight. It is very difficult to accept such limited action for such significant child neglect.
We took twelve children from Kisumu (Kenya) Mama Ngina Children's Home to the shoe store for their first pairs of school shoes. Students are not allowed to go to school without black oxford shoes and a school uniform. These twelve were very happy both for the shoes and the trip to the shoe store in tuk-tuks also known as auto rickshaws.
One of our longtime student friends from Mama Ngina Children's Home reached an age where he was no longer eligible for care at the orphanage. Sadly, that is age 16 and finished with 8th grade. He was kindly taken in by another of our friends and is now attending high school. We provided a scholarship to cover tuition and fees, as well as some school supplies. We are happy to see Kenyans reaching out to help other Kenyans. And the good news: He ranked #2 of 121 students in his freshman class! Congratulations!!!
2012
We funded the living expenses of a Micronesian girl during her and her family's stay in the US for her colon surgery. Update: She's doing well back at home!
We funded boarding school expenses at St. Oda School for the blind for three brothers who have no family other than an aging grandmother.
We sponsored an alternative to Female Genital Mutilation at a Tanzanian village where the tradition has been cutting girls for generations. They now will have the option of attending a month-long culturally sensitive course as an initiation to womanhood. No more cutting!
We provided funds for an emergency medical of patients, particularly children, in west Nairobi. These patients drop by a social work center, asking for help. The center has always been strapped for cash to help, but now has a contingency fund.
We funded high school for a few students in Kisumu, Kenya.
We found volunteers to hand-craft four anatomically correct dolls to be used at Child Link, a social work center that helps child victims of abuse. We also provided them a cash donation to support their operation.
We began a roofing project that might turn out to be a technology demonstration of cold formed, light gauge steel frame roofing as an alternative to the typical wooden timber roof frames that don't measure up to international building codes.
We funded a staff visit to Pakistan to meet with the families of victims of US drone attacks. By reaching out in peace, we were able to establish bridges from person to person–to remind Pakistanis that many US citizens do not support the US drone attacks within the sovereign Pakistani homeland.
December 2012 Riva's friends from Maryland, Virginia and Texas made 4 anatomically correct dolls for ChildLink, a Kisumu NGO that networks among abused children, police, children's services, hospitals, social workers, etc. Children use the dolls to help them show what has happened to them as they try to explain events to police, social workers, and hospital staff. We made dozens of clothes pin dolls for the children who visit ChildLink so that each child has a little take-away gift after visiting ChildLink.
Lastly, we donated $1000 for operational expenses at ChildLink. The staff at ChildLink has been remarkable helpful to Riva Refuge in keeping tabs on some of our young friends who are "at risk" teens. ChildLink staff visits them at the childrens' home and at foster home, as well as escorts Riva staff to schools where teens now attend classes.
2011
Purchased bunk beds for St. Gerald Children Centre near Nyeri, Kenya; provided bedding for 115 beds
Funded a laptop, Brailler, and school supplies for a recently blinded woman in Uganda
Purchased archery equipment for Girl Scouts in Renton, WA
Purchased sports equipment for a high school in Hawaii whose program was sadly underfunded and at risk -Visited Kenya and Zambia, providing school supplies and clothing to children's homes; delivered over 2000 donated pens and pencils from the US; delivered 100 shirts from a T-shirt printing company.
Purchased science text books for 7th grade at a Zambian school
Established a microloan program with Kotetni Young Women's Self Help Group, Kisumu, Kenya
2010
Sponsored a start-up small business in children's clothing sales
Visited Mama Ngina Childdren's Home, Kisumu, Kenya. Delivered clothing and school supplies. Purchased school uniforms.